FinCEN extends comment period for virtual currency and digital asset transactions
Chris Hamblin, Editor, London, 10 February 2021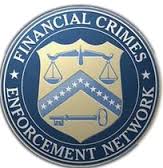 The US Financial Crimes Enforcement Network has submitted for publication in the Federal Register an extension notice which will lengthen a reopened comment period and set one deadline for all comments about its Notice of Proposed Rulemaking regarding certain transactions involving convertible virtual currency (CVC) or digital assets with legal tender status (LTDA).
The notice says that banks and money services businesses ought to submit reports, keep records and verify the identities of customers in relation to transactions above certain thresholds involving CVC/LTDA wallets not hosted by financial institutions (known as "unhosted wallets") or CVC/LTDA wallets hosted by financial institutions in certain jurisdictions that FinCEN likes.
Last month, FinCEN issued a notice reopening the comment period. In that notice, it provided an additional 15 days for comments on the proposed reporting requirements regarding the transactions in question. FinCEN further provided for an additional 45 days for comments on the proposal that banks and MSBs ought to report certain information regarding counterparties to transactions by their hosted wallet customers, and on the notice's proposals for recordkeeping rules.
All comments to the notice will now be due 60 days from the date of publication of the extension notice in the Federal Register.