OCC asks for banks' opinions
Chris Hamblin, Editor, London, 9 June 2020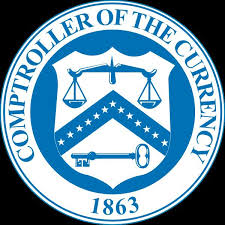 The US Office of the Comptroller of the Currency has published a Notice of Proposed Rulemaking that outlines its plans to update its rules for banks. It has also released an Advance Notice of Proposed Rulemaking in which it proposes to create more rules to govern banks' digital activities.
The first of the two documents is part of the OCC's continual effort to modernise its rules (namely 12 CFR 7) and remove unnecessary requirements to relieve banks of unnecessary burdens.
The idea is to eliminate outdated regulatory requirements that no longer fit into today's financial system, streamlining OCC interpretations of the law that involve permissible derivative activities for banks, permitting banks to engage in certain tax equity finance transactions, codifying OCC pronouncements regarding banks' membership of payment systems, allowing banks to do more to choose between the corporate governance provisions of states, and other things.
The second document invites comment on the OCC's regulations at 12 CFR 7, subpart E and 155, and any other banking issues related to digital technology and innovation, which look at:
whether the legal standards in those provisions are flexible and clear enough in the light of technological advances;
whether these legal standards hamper innovation by banks;
whether these rules miss out some digital banking activities or issues such as digital finders' activities, certain software and correspondent services;
the activities related to cryptocurrencies or cryptoassets in which banks engage and the obstacles to the further pursuit of crypto-related activities;
how banks use distributed ledger technology;
how they use artificial intelligence and machine-learning techniques;
what new or innovative tools they use, including RegTech;
problems in this area that are unique to smaller banks; and
any problems thrown up in this area by the recent pandemic.
The comment period for both papers ends on 3 August.